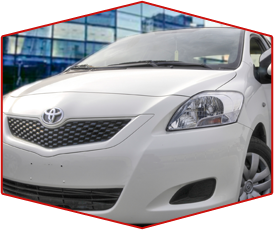 Our lessons are conducted in English, Arabic & Urdu languages. Please contact us for further guidance should you require instructions using any other language.
Driving schedule must be canceled 2 days before the arranged date.
Registration is valid for one year and is non-transferable and non-refundable.
Always bring your student permit/license when driving; NO permit/license/ NO driving.
For security reasons, do not bring valuable belongings while driving. The company shall not be liable for any lost.
Practical lessons are conducted on a one-to-one basis between the student and the instructor. No other person is allowed in the vehicle.
For those female students who wish to have lady instructors tutoring them, we have qualified lady instructors on our team. Please inform us when booking your classes.
We adhere to strict rules when it comes to employing new staff, ensuring that they have the relevant qualifications and experience to meet our very high standards. We therefore have professional, experienced and ethical staff members to ensure complete satisfaction for all our students / clients.
Our vehicles are all insured through an established insurance company.
Our vehicles are all mechanically inspected annually to ensure they are road-worthy.
We have a comprehensive fleet management system in place that monitors all our vehicles, analyzing fuel consumption, usage etc., allowing us to maintain, repair or update vehicles when necessary.
Immediately on confirmation of commencement of lessons, students are immediately given their appropriate theory or practical lesson bookings, as per their requirements (we try our best to accommodate bookings as per the student's request. However, this may not always be possible, depending on the availability of vehicles / instructors etc.) . It must be noted that a student can only commence their practical test after being issued with a Provisional Driving License, in accordance with Traffic Department Rules & Regulation.
Big discounts are given for group or companies.
Balance must be fully paid on the first day of driving.
Fees are subject to change without prior notice.
Requirements
Eye Test (Eye test can be done at Gulf Driving School )
2 Copies of Qatar ID/Visa (Profession on QID must be eligible
Passport size colored photo (photo with glasses if worn)
Approval from Traffic Department (Only if Half course is needed)